class="buzz-timestamp js-timestamp js-unsupported-fallback
text-gray-lightest
xs-text-6 nowrap xs-mb1
">
Posted on
April 22, 2020, 17:38 GMT

Alan White
BuzzFeed News Reporter
Share This Article
This is Vaughan Gething, the health minister for Wales.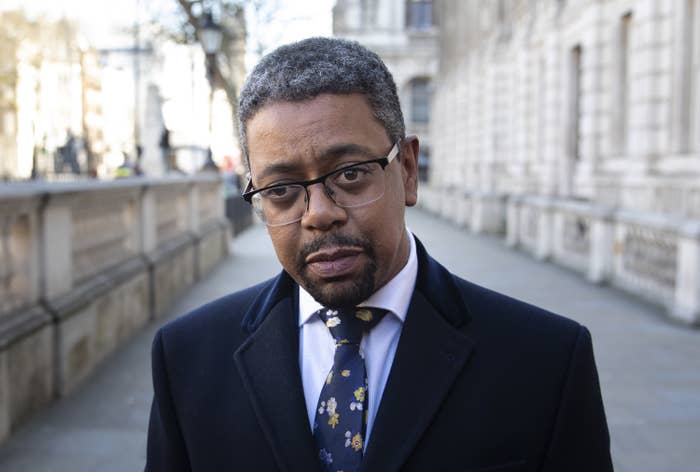 Dan Kitwood / Getty Images
This is a shocked Welsh politician, taking part in a Zoom call.
My favourite one…
And another one…
…and another one.
And this is why they're shocked.
"What the **** is the matter with her?!"
Welsh Health Minister illustrates the dangers of not muting the mic as he slags off his Labour colleague on Welsh Assembly video conference 😳
Yes, Gething did the one thing all of us who are working from home are frankly petrified of doing. He forgot to leave his mic on mute during a virtual session of the Welsh Assembly and was caught swearing about one of his Labour colleagues, Jenny Rathbone, the member for Cardiff Central.
Cue the inevitable calls for his resignation from opposition politicians.

Adrian Masters
@adrianmasters84
1/3 Plaid Cymru isn't amused by Health minister's zoom blooper, calling for him to resign: 'he has not only failed over the last month several times, he has failed to acknowledge that he has failed and aggressively attacks even those witjin his own party who question him.
And the inevitable awkward apology.
Vaughan Gething AM
@vaughangething
I'm obviously embarrassed about my comments at the end of questions today. I've sent a message apologising and offered to speak to @JennyRathbone if she wishes to do so. It is an unwelcome distraction at a time of unprecedented challenge.
In summary:

Alain Tolhurst
@Alain_Tolhurst
@vaughangething
More on this
Alan White is a news editor for BuzzFeed News and is based in London.
Contact Alan White at alan.white@buzzfeed.com.
Got a confidential tip? Submit it here.